Mikrogliazellen im Rahmen vaskulärer Pathologie und Neurodegeneration
Unserem zentralen Forschungsziel folgend, Mechanismen und Zellpopulationen zu identifizieren, die zum Beginn einer Erkrankung beitragen, untersuchen wir den Einfluss einer lokalen Immunreaktion auf das Entstehen choroidaler Neovaskularisationen (CNV) oder während der Sauerstoff induzierten Retinopathie oxygen-induced retinopathy und im Kontext neurodegenerativer Schadensmodelle. Die konkrete Rolle der Mikrogliazellen bei diesen Prozessen ist aktuell noch umstritten.
Projektleiterin: Prof. Dr. Dr. Braunger
Mitarbeiter: Dr. Mario Vallon, Dr. Anja Schlecht, Christina Bielmeier (MSc), Saskia Roth (MSc), Jonathan Müller (cand. med.), Nikolai Kleefeldt (Weiterbildungsassistent der Universitätsaugenklinik Würzburg)
"Among other things our lab uses the ProOx 360 and A-Chamber from BioSpherix Ltd to control oxygen conditions for in vivo models of oxygen-induced retinopathy.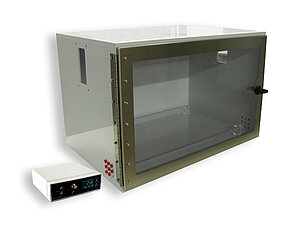 More information can be found at: https://biospherix.com/ophthalmology ",